ANIME BREAKDOWN:
Ronin Warriors (Yoroiden Samurai Troopers)
鎧伝サムライトルーパー
---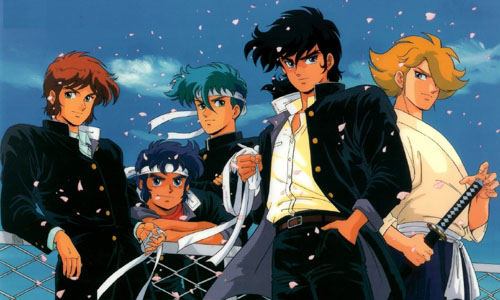 THE EPISODE GUIDE:
or: How Morgan Spent Her Tuesday
---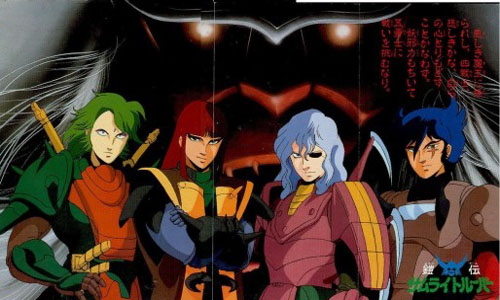 THE DRINKING GAME:
Take a drink whenever...
The Narrator:
Ends the episode on a rhetorical question ("Will the Ronin Warriors be able to defeat Talpa...?) or an overly dramatic statement ("Until then, terror still reigns!!").
In other words, take a drink at the end of each episode.
Ryo:
Feels sorry for himself.
Has his leadership blatantly usurped by the others. (Two drinks if Mia blatantly usurps his leadership).
Tries to be solemn and ends up sounding like Keanu Reeves.
Gets maimed, blinded, crippled, etc.
Sage:
"We need a plan..." (two drinks if any of the ronins immediately insist that they don't or if the next scene shows them merrily proceeding without a plan).
Crosses his arms and leans against something.
Hair flops into eyes while in full armor.
Hair defies gravity, weather, or large amounts of water.
Chooses an inopportune time to meditate.
Sai:
Displays any noticeable personality whatsoever.
Two drinks for his astonishingly cruel line, in reference to Rowen being trapped in space, "Couldn't we go on without him?"
"Supah Wave SMASHUH!!" just 'cause it sounds so cute when he says it.
Kento:
EATS!!
Is criticized/picked on by any of the ronins.
Rowen:
Shows any sign of being "the most clever and dangerous" of the ronins.
Drain it for his "Ryo! She's a girl!" line. Ditto for his "You.. You're a man!" line to Anubis.
Misc. Ronins:
Partial ronin nudity!
Fights/arguments between ronins.
Any of our boys get all teary-eyed.
An unrealistic number of ronins are crammed into the backseat of Mia's jeep.
Any of our boys get stepped on, literally. (by warlords or Kayura).
White Blaze:
Mia:
Uses her computer
Feeds the boys.
Is used as bait by the warlords.
Yuli:
Anyone covers his mouth
Covers his own mouth
Saves the day
Anubis:
Hurls his chains or the ancient's staff directly at someone instead of near them.
Carries on an interior monologue.
Drain the whole glass when he dies (sniff).
Warlords:
Call the ronins "pathetic", "small boy", or "dear".
Call the ronins by their first name, sans epithets.
Gang up against each other.
Kill any animals (including fish)
Any one manages to trap all five warriors.
Pass up a perfect opportunity to kill any of the ronins in order to toy with them some more.
Extinguish candles through unnatural means.
Kayura:
Gets naked.
Openly shows disgust towards the warlords.
Talpa:
Makes a joke
Refers to himself as "evil"
Etc:
The title of the episode gives away the ending (ex: "The Warriors Triumph", "White Blaze's Sacrifice").
---