---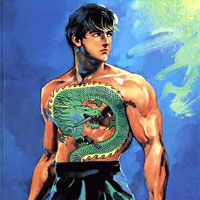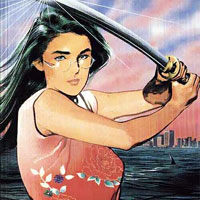 Anime:
Portrait of a Killer
Brainwashed by the 108 Dragons, a powerful Chinese crime syndicate, Yo Hinomura is transformed into a killing machine known as "Crying Freeman" for the silent tears he sheds for his victims. When the lovely artist Emu Hino witnesses one of his killing missions, Freeman is ordered to eliminate her. But the heated chemistry between the artist and her would-be killer spurs an immediate reaction. Hunted by both the police and the mob, victim and assassin vow to face together whatever fate has in store for them.
A Taste of Revenge
By taking the Chinese names "Ron Tayan" (Dragon Sun) and "Fu Ching-Ran" (Tiger Orchid), Hinomura and his wife Emu Hino show their commitment to the venerable Hong Kong cartel The 108 Dragons. Now they face both betrayal from within their own group and a hostile take-over attempt by a new terrorist gang trying to muscle in on the international crime scene. Later, master Naiji-a powerful and driven fanatic-schemes to use the 108 Dragons' influence to spread his "Great Bear God" religion throughout the world. Forming an unlikely aliance with two of Freeman's past enemies, Naiji plans to replace the reluctant leader of Hong Kong's pre-eminent crime cartel with a perfect double capable of fooling everyone, even his wife!
Abduction in Chinatown
A bold kidnapping foreshadows a desperate plan by the lusty female leader of a deadly army of mercenaries. It is simple: transform Freeman - the enigmatic leader of the powerful crime syndicate The 108 Dragons - into a mindless "killing machine" fueled by desire and self-indulgence. Once again Freeman is forced to fight for his life, this time against combat-hardened "gladiators." Later, Freeman must ferret out a traitor bent on destroying The 108 Dragons. Freeman's final pulse-pounding battle is bracketed by a bittersweet journey of enlightenment punctuated by vice, violence and vengeance.
---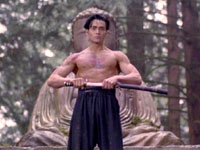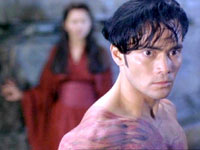 Movie:
"An ordinary man is kidnapped and trained against his will to be the world's best assassin, Freeman. After each killing, he sheds a tear for his victim, and becomes known as Crying Freeman. When his latest assassination of a yakuza member is witnessed by Emu, the mysterious killer captures her heart. When she becomes a key witness to the murder for the police, as well as the yakuza member's father, Shimasaki, her movements are closely followed. At city hall, a masked killer assassinates Shimasaki in broad daylight. Emu recognizes him as Freeman, and knows that he will return for her life. But will Emu's love for a man she doesn't even know be enough to stop him?"
---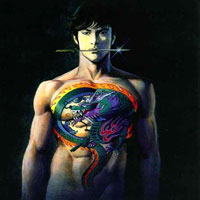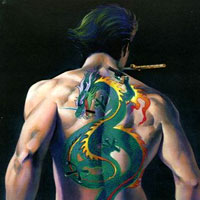 Manga (Viz):
Portrait of a Killer
"A beautiful, lonely woman, a painter, witnesses a murder and knows the mysterious assassin will come for her next! She has never known love...until she meets her would-be-killer! He finds himself unable to end her life, and proceeds to tell the bizarre story of how he was trained to kill again and again..."
Mr. Yo
Fallen Flower, Flowing Water
A Taste of Revenge
"Freeman is in the clutches of the secret Cult of the Bear, a menace to all Japan! Can he foil their plan to replace him with an exactt double? To deceive even Freeman's beloved wife, the cult leaders employ a beautiful nemesis to unlock Freeman's most intimate sexual secrets..."
Tohgoku Oshu
Nothing Ventured, Nothing Gained
Shades of Death
"Freeman foils a highjacking attempt by Askari, an infamous African revolutionary group, but by so doing be brings the wrath of these vicious killers upon himself and those close to him. Freeman must vanquish these foes or die trying."
The Tiger Orchid
The Wind and the Crane
The Marital Vows
Abduction in Chinatown
"Freeman arrives at Los Angeles' Chinatown to solve a kidnapping incident. When Freeman becomes trapped by the leader of an infamous mercenary organization who's sexually obsessed with him, Freeman is forced to fight for his life in the ring. The final showdown is only moments away!"
The Killing Ring
"Freeman is caught in the deadly embrace of the beautiful leader of Askari, an African crime syndicate! Then Freeman's fearless wife, Emu, takes on the cursed sword Muramasa. Is the force of her love powerful enough to tame the evil locked inside the deadly blade?"
Journey to Freedom
"Freeman travels back to Japan to meet Kimiryu and Yujun, ex-wife and son of Tohgoku Oshu, in order to fulfill a promise made before Tohgoku's untimely demise. In order to live up to his word, however, Freeman must deal with a powerful businessman with yakuza ties who has plans to his own for Kimiryu. Who will be the victor when one world-class deadly assassin squares off against the other?"
---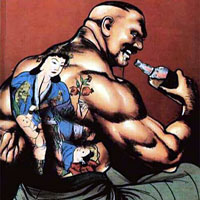 Manga (Dark Horse):
Volume 1
"He is Yo Himomura, deadly assassin for the 108 Dragons, the Chinese Mafia. But to the criminal underworld who fear him, he is known as Crying Freeman, the killer who sheds tears at the fate of his victims. A young, handsome, sensitive artist, Yo has been hypnotically programmed by his Dragon masters to kill on command: he cannot resists his masters' commands to kill; his masters cannot stop his tears of remorse."
Volume 2
"Crying Freeman, the deadliest assassin of the 108 Dragons clan of the Chinese mafia has taken a bride, and she has passed the harsh tests of the Dragons and been given a new name, Fu Ching Lan, "Tiger Orchid." And despite Freeman's Japanese heritage, he has been chosen to become the eventual leader of the Dragons. But someone inside the Dragons wants Freeman dead, and Tiger Orchid should make a fine hostage to draw Freeman into the open... where a monstrous killer awaits."
Volume 3
"A failed assassination attempt brings into Freeman's possession Muramasa, the Devil's Sword, an ancient samurai blade that brings misfortune and death to any who possess it. Wishing to spare Freeman and tame the sword's malevolent spirit, Tiger Orchid, Freeman's wife, takes the blade to Kowloon to train with a legendary swordmaster. But she'll need to find him in Kowloon Castle, a slum so riddled with crime and destitution that it does not officially exist. But its dangers are all too real, and even a possessed sword may not be enough to stop a gun-toting criminal army bent on selling Tiger Orchid into slavery!"
Volume 4
"Cult leader Naiji Kumaga is poised for a hostile takeover of Japan. He has the tools - 1000 submachine guns in a land with few firearms - but needs expert hands to wield them, and the assassins of the 108 Dragons definitely have what it takes. Kumaga's plan: capture the Dragons' leader, Crying Freeman, and replace him with a trained double. Snatching the world's deadliest killer is a tall order, but maybe not too tall for the merciless giant, Tohgoku Oshu!"
Volume 5
"Once a humble ceramics artist, the infamous assassin known as Crying Freeman has risen in power to become the head of the 108 Dragons, the most powerful criminal organization on earth. But power has its price, and there is no end to the number of rival groups gunning for 108 Dragons turf - and for Freeman's head. Faced with an army of kidnappers and a host of assassins, each more deadly than the last, how long can Freeman's luck hold out? Will the Dragons be torn apart by warring rivals or poisoned by betrayal from within? Will Freeman's sensitive, compassionate heart be the Dragons' redemption or its downfall? Can Freeman and his loved ones survive the painful realities that come with living in a world of vicious gangland warfare? All questions will be answered in this, the final volume of Crying Freeman!"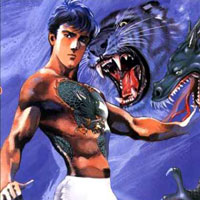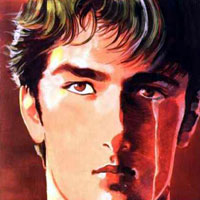 ---